Featured Work
Josh Huestis, NBA, Basketball Website Project
Scott Mathson designed, developed, and produced a consistent, clean brand and web experience for NBA Player Josh Huestis. The main goal was to build our client an eCommerce platform to sell basketball Camp tickets. MDC founder, Scott, is a very thorough designer and naturally took this project a few steps further, designing a website where you can also learn more about Huestis's career, background, and highlights.
Mathson Design Co. did the whole bit, from top to bottom.
Design concepts + Strategy
Logo creation + Graphic design
Website design + Website Development
UX/UI + Strategy
SEO + Content editing
Branding and Art direction
Consistent rapid prototypes, concepts, and strategizing with client
Custom email development
Our favorite thing about this client: as Josh's career in the NBA continues to advance and he's moving up, he's continuing to give back to his hometown and current community, staying humble and remembering his roots. As well, Huestis's manager, Reid Tramelli, is a dream to work with.
---
As of 2019, Josh and team transitioned away from the website theme and architecture we set them up with, so the site may now appear different. See historical information below and browse through archive.org.
2018 Website Redesign
Huestis reached back out to Mathson Design Co. late 2017 to discuss the upcoming 2018 Camp and some new eCommerce cart and insurance card collection form functionalities needed on-site. They also wanted a bit of a facelift and updated shots, inclusion of the inaugural camp year 1 video, etc. Here is the homepage:

2017 Website Launch: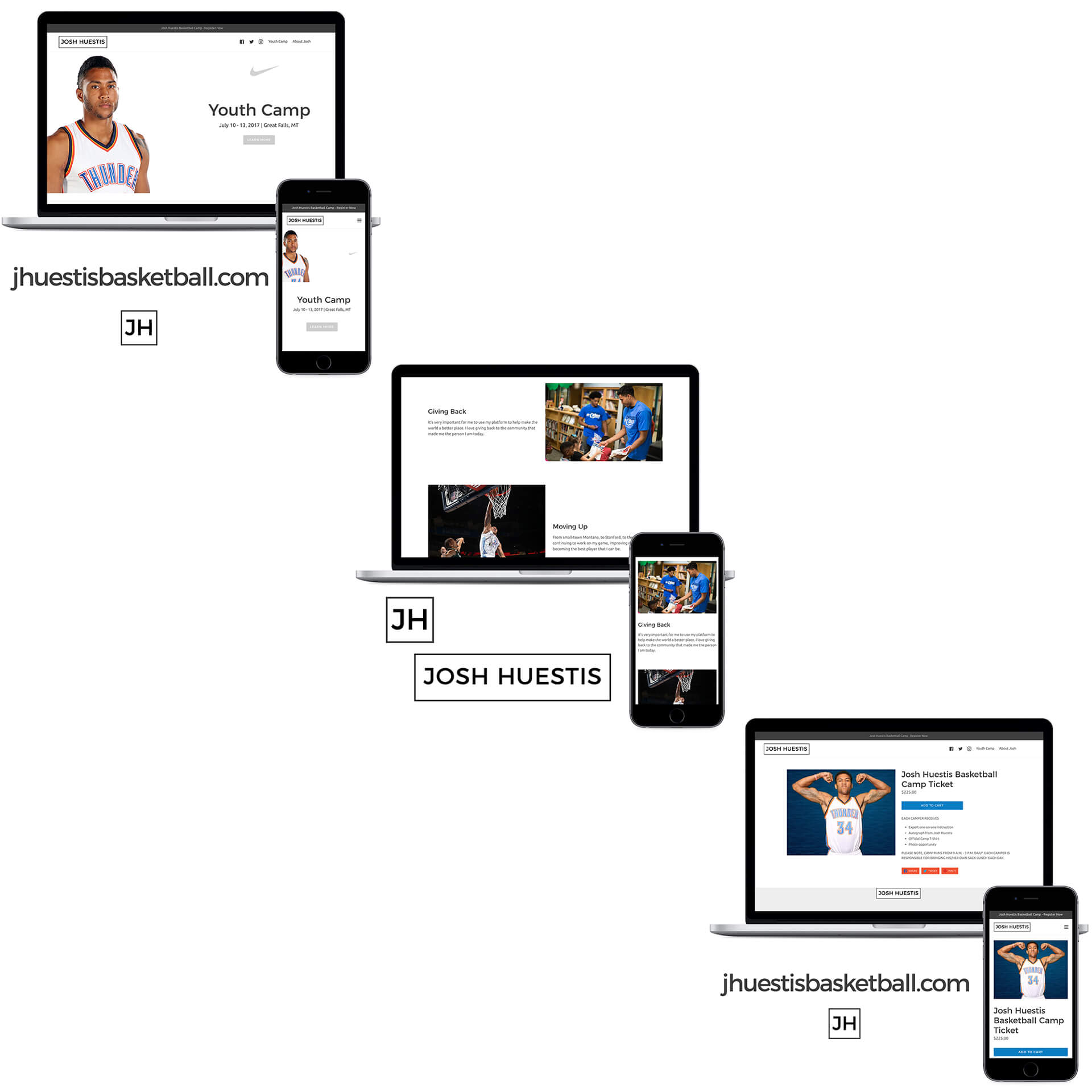 ---
"Our experience with Mathson Design Co. was amazing. From start to finish Scott worked diligently to meet all of our requests. We highly recommend him and his company to anyone looking for website design and much much more!" - Reid Tramelli, Josh Huestis Manager April 7, 2017
---
Like what you see?
We're ready to work with you, for you!